LAN connections can only operate in a local area which is usually not any bigger than a house, or a floor in an office building. Therefore, for those enterprises or institutions that need Strict data confidentiality are suitable to conduct exams using LAN Exam Maker, an exam system via LAN. 

How can I create online exam via LAN by using LAN Exam Maker?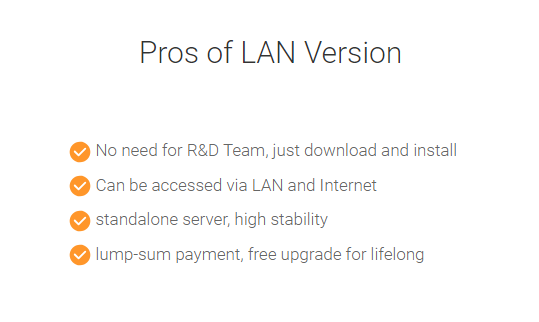 The operation of LAN Exam Maker is clear and direct. You just need to download, install and then begin to create exams.
1.After the installer download procedure, double click to start installation, click next and next then you will finish installing and enter to the service manager page.
2.Click the "Open Dashboard" button, get into the dashboard.
   Click the Exams-> Exams List, you will see the new exam button, click it to create exam:
   Four steps to create online exam:
√ The 1st step: Enrich the exam information for examinee to have a glance: exam title, content descriptions, exam background.
√ The 2nd step: Add questions and set according scores. We recommend you use Excel or Word to batch import hundreds of questions.
√ The 3rd step: Make some customization for your exam, such as anti-cheating, time limit, answer rules, etc.
√ The 4th step: Publish the exam. After publishing, share the URL or QR code to notify your students or staff to attend the exam.
Creating online exams via LAN is safe and handy. Since download the LAN Exam Maker is FREE now, quickly have a try!

Published Date:04:50am, May 7th, 2020