1101x626 (Original: 1101x626)
"I still want to conduct exams but now the students cannot get to school."
"Where can I free download LAN Based Exam System safely and legally?"
If you are someone who has been searching for an approach to buy software, you probably noticed that the prices for the exam system can become intensively expensive since the COVID-19 pandemic has exposed for a long while leading that online working and online learning are processing.

But it doesn't have to be!

There is a free LAN Based Exam System which you can download full versions software for free. We're offering you a free exam system, LAN Exam Maker, where you can download two versions of – standard, professional – great real free LAN based exam system.


Safe Access to Download Free LAN Based Exam System
Before downloading any version of LAN Exam Maker, make sure that you have fully acknowledged the LAN based exam system first.
What is LAN Exam Maker?
LAN Exam Maker is an examination system independently developed by Smlme Team, which is suitable for enterprises, institutions, government, schools and education institutions to create exams through the Internet or LAN. The system supports users to organize exams, and supports candidates to answer questions on PC or Mobile Phone. What is more, our LAN Exam Maker also has comprehensive data analysis functions, which provides convenience for users to handle the exam situation in all aspects.
How to FREE download the LAN based exam system? Is it complicated?
It is a really simple operation. You just need to download it, install it and begin to use it. No need for further technical operations.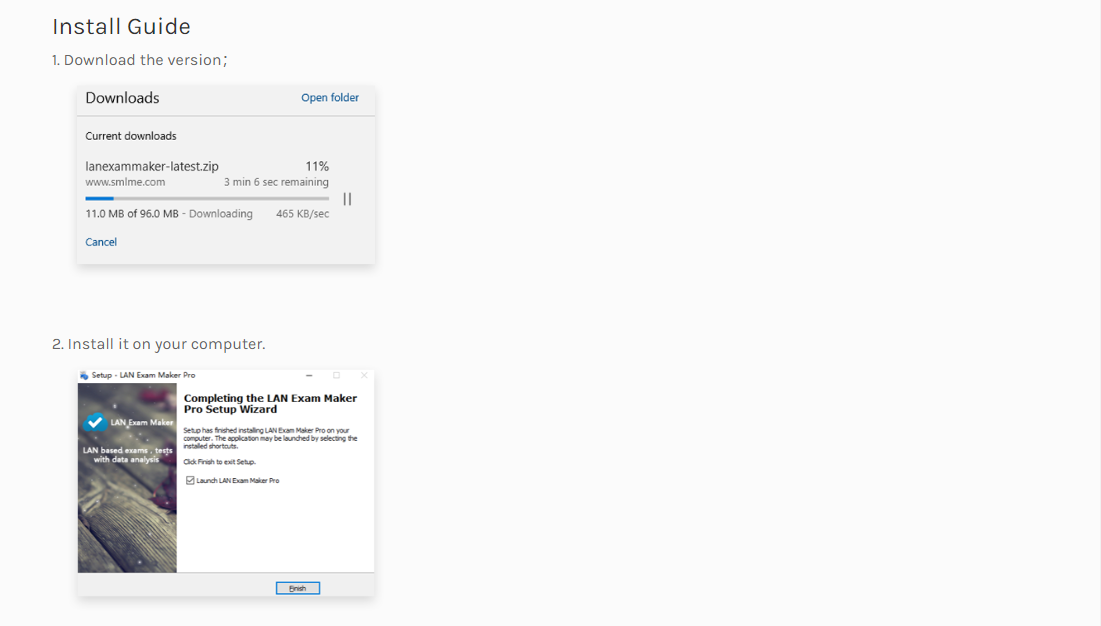 How to Build an Exam?
Step 1: Basic Information.
Log in the system, click the New Exam+ action and fill in the according exam information and descriptions, then click Save and Next;
Step 2: Select Questions.
Add questions for your exam by importing questions files (Excel or Word) into the system to enrich your Questions Bank for the exam, or you can choose other ways which are shown on the system;
Step 3: Do Some Settings.
Users can do some settings of examination process, such as available date, authentication, anti-cheating settings and etc.
Step 4: Publish Exam!
Just copy the link or share the QR Code for your candidates to notify them to attend exams in time. What's more, the exam can be embed on your website if you own one.
With the Free LAN based exam system, you can continue your exams under such circumstances. Let's download it now.
Published Date:02:38am, April 16th, 2020